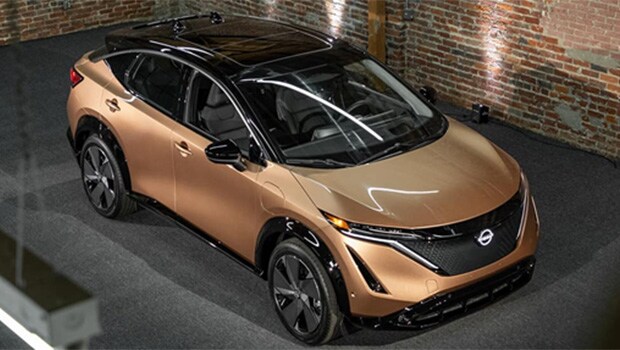 In April, Nissan announced the all-new Ariya electric crossover received the prestigious iF Design Award in Germany. The Ariya was honored after being evaluated on five criteria: idea, form, function, differentiation, and impact. Read on to learn more about this prestigious honor and get to know everything that makes the all-new Nissan Ariya EV so special.
What Is the iF Design Award?
The iF Design Award is a measure of good design and quality. It's awarded by an independent jury of international design experts based on a set of objective criteria. For 2022, over 7,900 entries from nearly 60 countries were evaluated, and this year all eyes were on Nissan's brand-new Ariya EV, which highlights Nissan's innovative concept of "Timeless Japanese Futurism."
What makes the Nissan Ariya EV so special?
Nissan's all-new Ariya electric crossover combines unique styling, Nissan's expertise in the electric vehicle market, and the latest connected technologies. Trim levels include the Venture+, Evolve+, Premier, and Platinum+, with a starting price of around $47,125 for the Venture+ level. Aside from its stunning exterior aesthetics, the Ariya offers plenty of power and a quiet, smooth ride. The interior is just as gorgeous as the exterior, providing plenty of room and a comfortable environment for the driver and passengers. Key features include:
Power and performance: The Ariya go a step further than the Nissan Leaf in terms of power and performance. The Ariya offers optional all-wheel drive, which is significantly faster than front-wheel-drive models. Current estimates put the Ariya at zero to 60 in less than 5.0 seconds, an impressive feat that's often found only in higher-end electric vehicles. You can expect a calm, stable ride—perfect for daily driving.
Range: The Ariya comes in several available trims, with the Venture+ offering up to 300 miles of driving range on a single charge. This is a major step up from the Leaf's maximum range of 226 miles. Similar EVs on the market, including the Jaguar I-Pace and the Audi E-Tron only have 234 and 204 miles of range, respectively, at a much higher ticket price.
Infotainment: Staying connected on the go has never been easier with the Ariya's full suite of infotainment and connectivity options. Standard features are set to include dual 12.3" displays, Apple CarPlay, Android Auto, and in-dash navigation.
Safety: Safety comes standard in the all-new Nissan Ariya, with plenty of driver-assistance features that make every drive a joy. Nissan's ProPilot 2.0 is available for the Ariya, an amazing feature that allows for autonomous driving in certain situations. Other key standard safety features include automated emergency braking and lane-departure warning with lane-keeping assist. There's also available adaptive cruise control with semi-autonomous driving functionality, making the Ariya a perfect daily driver.
Pre-Order the All-Electric 2023 Nissan Ariya EV Today
The 2023 Nissan Ariya EV is available for pre-order now! Want to learn more about this incredible new vehicle? Talk to the experts at Maus Nissan of New Port Richey today. Stop by or give us a call at (727) 999-6287 for the inside scoop on the Ariya EV and other exciting Nissan models.