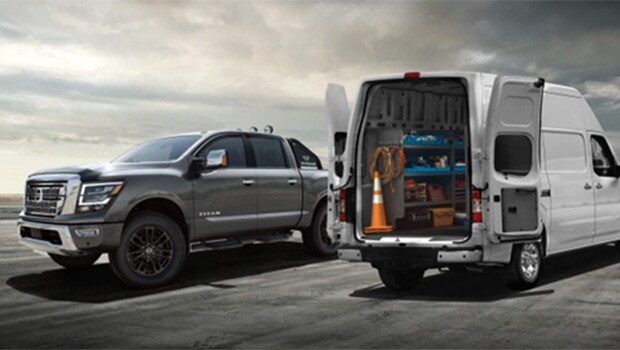 As your dedicated commercial vehicle dealer in New Port Richey, FL, Maus Nissan of New Port Richey wants to see your business thrive. Whether your business needs a fleet of work trucks like the Titan or Frontier; a sedan like the Altima or Sentra; or a work van like the Nissan NV, the Nissan Business Advantage Program offers a full range of upfits that help you do business better. Read on to learn what you need to know about Nissan's business and fleet upfit options.
What is an Upfit?
An upfit is a vehicle accessory or modification that's customized to a worker's needs. From cargo management systems to ladder racks, shelving, cooling units, and more, there are tons of add-ons that help workers bring an extra edge on the road or at the job site.
Nearly all types of businesses can benefit from a fleet of vehicles with strategic upfits. Nissan even offers packages geared toward specific industries, including:
Electrician: Nissan's available Electrician Starter Package offers shelving, door kits, bin systems, and other features so electricians can do their job on the go.
Plumber: Nissan's Upfit Engineering packages help you create a mobile workspace that fits the unique demands of plumbers, including drawers, hangers, and rooftop storage.
Contractor: Nissan offers several upfit options made with contractors in mind, including sliding tool boxes, bed extenders, and more.
HVAC professional: HVAC installation and repair vehicles can take advantage of practical upfits, like the useful 3 Tank Rack.
Internet and cable installer: This package helps utility workers stay organized with specially designed shelving and drawers.
Generous Upfitting Incentives
One of the best benefits of the Nissan Business Advantage Program is the generous incentive programs that make upfitting simple and cost-effective. Incentive packages include:
Upfit allowance: Want the vehicles in your fleet to have a distinctive look? Nissan offers a generous upfit cash allowance of up to $1,000, so you can add the gear you need to your vehicles.
Cargo management solutions: No matter what you're hauling for your job, Nissan makes it easy to keep work flowing. We'll install complimentary or low-cost Nissan shelves, ramps, bins, partitions, slide-outs, and more, so you can stay organized on the go.
Choosing the Right Upfits for Your Job
The Nissan experts at Maus Nissan of New Port Richey recommend you explore all available upfits before you purchase a vehicle. We'll help you make the right decision for your business and your employees, and we'll work with you to develop a plan for managing the upfitting process. Vehicle upfitting can be challenging, but our team of Fleet Sales Managers helps with every step along the way. Here's how the process works:
Select the vehicle(s) you need for your fleet.
Select appropriate upfits based on your work needs.
Work with your Maus Nissan of New Port Richey dealer to determine details of cost and implementation.
Hit the road in your new vehicle(s)!
Commercial upfits help you work better and smarter. From shelving and roof units to hangars, cooling units, and more, the Nissan Business Advantage Program offers upfits that are designed with efficiency and ease in mind. Want to learn more about the Nissan Business Advantage Program at Maus Nissan of New Port Richey? Give us a call today at (727) 999-6287!