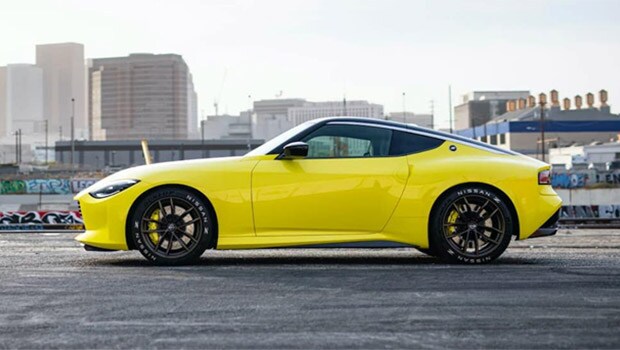 We all saw the big game and the excitement between the sidelines, but there was a whole other kind of excitement that set TVs on fire—metaphorically—during the game. Nissan went all out to unveil the all-new Nissan Z and Ariya models with their star-studded Super Bowl ad.
The ad was more feature film trailer than car commercial with all the action you could want in one minute starring Eugene Levy and featuring Brie Larson, Danai Gurira, and Dave Bautista. You can check out the edge of your seat trailer—oops, we mean commercial—here.
Your local Nissan professionals at Maus Nissan of New Port Richey wanted to take a few minutes and highlight some of our favorite moments in the Super Bowl spot, as well as some of the exciting features of the all-new Nissan Z and Nissan Ariya.
A Can't-Miss Commercial
That's what Nissan delivered with Nissan Presents: Thrill Driver, a can't miss commercial filled with flowing hair, cheesy one-liners that we've got on borrow, car chases and action. Every sequence seemed to put the Nissan Z and its prowess for the road on display.
Here are some features we're excited about in the Nissan Z:
Engine & Performance
What we know about the 2023 Z has got us excited here at Maus Nissan, and you will be too! That's because the all-new Z will be powered by a twin-turbocharged V6 engine that pushes out 400-horsepower through the rear wheels. In addition, it comes with a six-speed manual and nine-speed automatic transmission option that will make you feel connected to every curve.
You Can Have the Wind in Your Hair
While it's not going to hit our lot first like the hardtop coupe, a convertible version of the 2023 Nissan Z is coming later.
What About the Ariya?
We haven't forgotten about the all-new EV from Nissan, don't worry! Let's take a look at some of the exciting features of the Nissan Ariya.
Engine & Range
With the base trim, the Ariya Venture+, you'll find an 87-kilowatt-hour battery as well as a single electric motor that turns the front wheels. This trim has a peak output of 238-horsepower and an estimated range of 300 miles. Which for a standard trim level is pretty impressive.
If you're looking for a more powerful, all-wheel-drive EV, then you'll want to pounce on the Ariya Platinum+ that comes with the same 87-kWh battery. However, it has the added surprise of a dual-motor all-wheel-drive system that comes with 389 horses. You will only get an estimated range of 265 miles in this trim level.
These are just a few of the exciting features that you'll find in the Nissan Z and Nissan Ariya. If you want to experience either of these vehicles for yourself, be sure to call the Nissan specialists at Maus Nissan of New Port Richey today at (727)-999-6287!