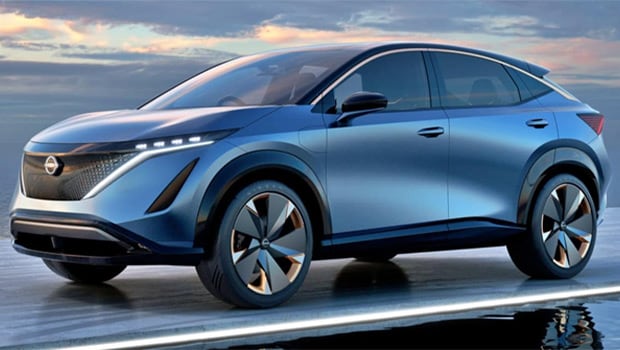 Looking for a modern, all-electric SUV? Nissan's exciting new entry into the electric vehicle (EV) market, the 2023 Nissan Ariya, is challenging everything we've come to expect from an SUV. Read on to learn why the all-new Ariya is Nissan's boldest step yet toward an all-electric car future.
Impressive Range
One of the concerns many drivers have when making the switch to an EV is range. After all, you don't want to be stuck on the side of the road needing a charge. Luckily, the 2023 Nissan Ariya has incredible range, with the Venture+ FWD base model expected to have the greatest range—up to 300 miles on a full charge.
Peak Performance
The 2023 Nissan Ariya features compelling driving dynamics you won't find in other SUVs in its class. The single-motor version of the Ariya gives drivers 238 horsepower and 221 pound-feet of torque. Keep in mind that that torque is instant, which means you'll get a swift response as soon as your foot hits the accelerator. Despite its size, the Ariya turns on a dime, easily navigating tight spaces. You also get an engaging amount of feedback from the wheel. Overall, the Ariya offers a fun, comfortable ride.
Tons of Tech
As you'd expect from a modern EV, the Nissan Ariya is loaded with tons of technology. First, there's Nissan's ProPilot semi-autonomous driving system, featuring guided parking and freeway driving assistance. You'll also appreciate automatic emergency braking at the front and the rear, as well as a 360-degree camera system.
If you want to stay connected and entertained on the go, you can do it in the Ariya. Nissan's Intelligent Integration concept includes dual 12.3-inch displays on the dashboard, one for driver information and one for infotainment. There's also a color head-up display, Apple CarPlay, and Android Auto integration.
A Comfortable Interior
The Ariya's interior is a game-changer in its own right, managing to be both functional and futuristic. There are Zero Gravity front seats, a sliding center console, a leather-wrapped steering wheel, and ambient lighting standard in every Ariya. With seating for five and plenty of cargo space, the Ariya is perfect as a daily driver, for cross-country road trips, or wherever your journeys take you.
E-Pedal
One of the more interesting features of the Nissan Ariya is the revolutionary e-Pedal. This technology was previously available in the Leaf, and it's essentially regenerative braking, allowing for single-pedal driving. In the Ariya, the e-Pedal lets you launch, accelerate/decelerate, and stop the vehicle with just the accelerator pedal, making driving simpler and more engaging.
See What's Great About the 2023 Nissan Ariya for Yourself
People are excited about the 2023 Nissan Ariya, so much so that reservations are full. But with extraordinary range, excellent features, and impressive driving dynamics, this all-electric SUV is a ride worth waiting for. Want to learn more about this revolutionary vehicle? Reach out to the Nissan experts at Maus Nissan of New Port Richey today at (727) 999-6287 to schedule your test drive!