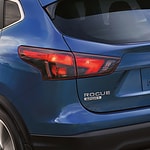 The Nissan Rogue Sport is the SUV of choice for those who love to have fun on the road and off-road. To make the Rogue Sport experience even better, Nissan offers a number of top exterior and interior accessories. Take a look at some of the most useful accessories available for the Rogue Sport.
You don't want to end up on the side of the road without the proper equipment. That's why Nissan offers a top Roadside Kit to ensure that you have what you need. Some of the top equipment included the Roadside Kit includes jumper cables, gloves, a reflector triangle and more.
Also available on the Rogue Sport is a handy First Aid Kit that will give you lots of peace of mind. Hey, you will never know when you will need it on that next outdoor adventure. Some of the top items included in the First Aid Kit include bandages, towelettes, first-aid cream and more.