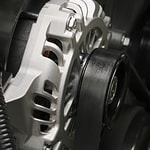 At Maus Nissan, we know that not everyone is familiar with the different parts of their vehicle. However, greater familiarity with how your vehicle works can lead to greater confidence as a vehicle owner.
You probably know that the battery supplies electrical power to parts of your car, and you may also know that if your battery dies, it can rebuild a charge if you run the car or drive it around New Port Richey. But did you ever wonder how the battery is recharged? This is the job of the alternator along with supplying other electrical parts with power.
The alternator is usually found bolted to your engine. It is a workhorse of a part. Alternators do not require regular maintenance and last for years. However, it is important that you keep them clean and dry by making sure your engine undershield is undamaged and there are no fluid leaks around it.