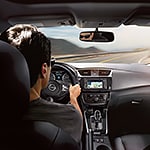 If you're looking for a mid-size sedan that's anything but cookie-cutter and boring, the new Nissan Sentra is sure to pique your interest. The trunk lid can be accentuated with a spoiler for a high-end look while a rear bumper cover protects the surface from sun exposure and roadway damage.
Taming clutter will be easy if you opt to add a cargo tray, storage tub, shopping bag holder or other organizing tool to your Sentra's trunk. Mats for both the trunk and cabin will keep your vehicle neat and passenger-ready, and a fully equipped clean-up kit means that you can make short work of tidying up unexpected messes.
To learn more about the popular Nissan Sentra or to test drive the latest models, visit Maus Nissan at our showroom here in New Port Richey today.