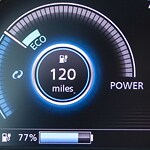 The Nissan LEAF is one of the most popular and highly popular electric vehicles on the streets of New Port Richey, FL, and elsewhere today. There are a number of important benefits associated with the Nissan LEAF.
Purchasing a Nissan LEAF can provide you with a number of potential tax benefits. Depending on where you specifically reside, owning and driving the Nissan LEAF can provide you with federal, state, and city tax incentives. In addition, depending on where you reside, your local power utility may provide you with rebates on your electric bill if you own and drive the Nissan LEAF. Through tax incentives and rebates, the Nissan LEAF can provide true fiscal benefits.
If you would like more information about the Nissan LEAF, visit the friendly team of professionals at Maus Nissan. In addition to getting answers to your questions, you will have the opportunity to take the Nissan LEAF for a test drive.