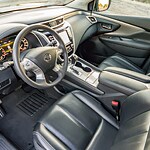 The Nissan Murano is a roomy, midsize crossover SUV. There are five seats in this vehicle. It can also get up to 28 MPG. Additionally, this vehicle has performance features that will make your ride go a lot more smoothly.
The Nissan Murano has available intelligent all-wheel drive. This feature will allow people to quickly adapt to changing conditions. It will also help you get the grip that you need in order to get control. Additionally, the system can switch from two-wheel drive to all-wheel drive.
Hill Start Assist is another feature that this vehicle has. The feature will apply the brakes when you are going up a steep hill. The pressure will be held for a few seconds in order to stop the vehicle from going backward when you switch to the accelerator. You can try out the performance features when you test drive the vehicle. Make a trip to our dealership today.