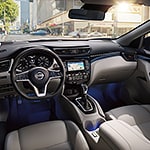 The Nissan Rogue Sport is packed full of cool technology that many other crossovers of its class do not have. For example, you can start your car at the press of a button thanks to the car's application. Remote starting your car is convenient during inclement weather and for when you are in a hurry.
You will ride in style and comfort in the Nissan Rogue Sport thanks to its spacious interior. This is a car that is ideal for both singles and families. You can fit everyone, pets included, into this versatile vehicle.
Go to our local dealership to take the Rogue Sport out on a test drive. We at Maus Nissan offer only the best in tech cars on the market, and the Rogue Sport is one of the best vehicles the beloved Japanese brand has to offer. Our New Port Richey, FL team can't wait to show you the Nissan Rogue Sport.