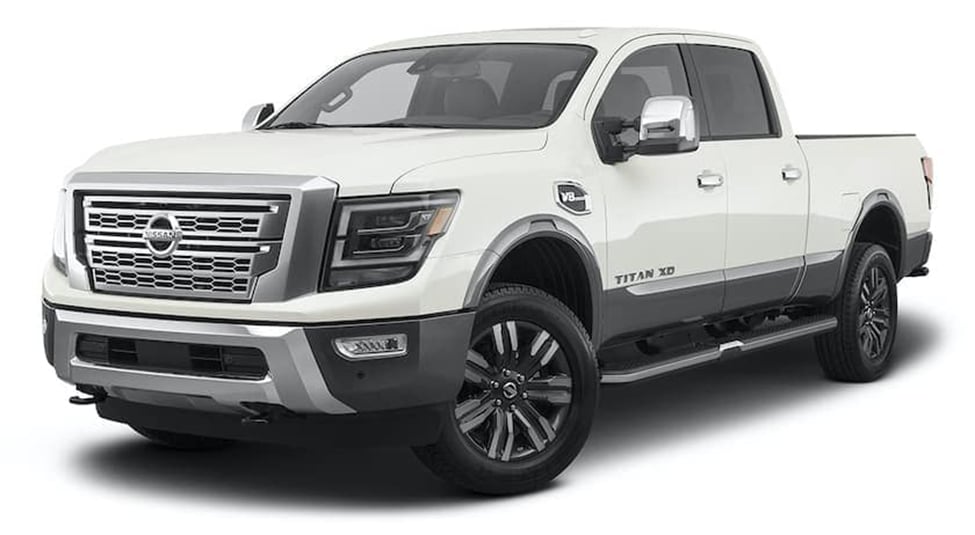 2022 Nissan Titan vs 2022 Toyota Tundra
A proper utility pickup truck should have a nice balance between being functional and practical. You want it to be able to handle all of your needs, but at the same time, you don't want to be burdened by all kinds of unnecessary components that get in the way of your routine, not to mention the price of those features that you're not even going to use. That can be a lot to keep in mind when looking for your next pickup, but you can narrow your search down to the 2022 Nissan Titan and the 2022 Toyota Tundra which the experts at Maus Nissan of New Port Richey will break down for you today.
2022 Nissan Titan vs 2022 Toyota Tundra
As mentioned earlier, a great utility truck should be good at doing the things that you need it to do at a reasonable price that's not escalated by unnecessary or impractical features. With this in mind, the latest Nissan Titan will do the trick while the Toyota Tundra may as well bleed you dry for no good reason.
Performance
The 2022 Titan comes equipped with a 5.6L V8 engine producing 400 horsepower and 413 lb.-ft. of torque which is ample strength for any tasks that you'll come across along your journey. Your standard Titan can pull up to 9,240 pounds which can be upgraded to a limit of 9,660 pounds. This impressive 9-speed pickup has a decent mileage rating of 16 in-city and 21 highway miles per gallon, and the starting price only runs at around $36,000.
Looking that the basic i-FORCE engine for the Tundra, you'll notice that it's only capable of 389 horsepower. Seeing this low amount of power, you'll be enticed to upgrade to the i-FORCE MAX which will bump you up all the way to 437, but this particular engine is only available in the highest Capstone trim with a starting price of $74,250. Is an additional 37 horsepower (compared to the Titan) really worth spending an extra $40k? You may think that the ability to tow up to 12,000 pounds could be worth the price, but you'll rarely come across the opportunity to even get near that weight limit. And when you factor in the mileage rating of 19 in-city and 22 highway miles, you'll be even more disappointed to find out that the i-FORCE MAX is actually a hybrid engine that should support much better mileage but still somehow comes up short.
Safety Features
As with most pickup trucks, you receive all of the standard essentials to help keep you out of harm's way. For the Titan, that means an automated emergency braking system and a 360-degree top-view camera. The Titan also has a motion detector system, and you can also opt-in for available features such as blind-spot monitoring, rear cross-traffic alert, and adaptive cruise control.
The Tundra also comes with a panoramic view monitor that's similar to the Titan's 360-degree overhead camera, but the field of view is so limited that the range displayed on the screen feels rather claustrophobic. Aside from that, you still have the basic blind spot monitor, pre-collision system, and lane departure warning.
Interior
The cabin of the Titan promotes comfort, device support, and sufficient entertainment which is all you need for a homey atmosphere that you can comfortably exist in for your daily commutes and more. Zero Gravity front seats keep you from feeling so tensed up while you enjoy the Fender-branded audio system that music junkies will absolutely love. Having both a wireless charging pad and plenty of power-charging outlets will keep your battery full, and the inclusion of Wi-Fi hotspot capability keeps you connected to your smartphone.
When you step into a Tundra with the "premium" interior layout, you'll immediately be bombarded with too many design elements to comprehend along with 6 different colors scattered throughout the cabin. It'll take you a good while to gather your bearings as you're greeted with dark brown, cream, black, gray, and silver all at once everywhere you look. And if that wasn't enough to take in, you'll also find wooden paneling on the doors. This is why it's best to keep a simple design whenever possible, especially if the interior layout is responsible for part of the final cost.
Bottom Line
For a practical utility pickup truck that's a great value for what you pay, the 2022 Nissan Titan fits the bill perfectly. The Tundra has too many gimmicks going on to justify the high price, which is why we'll gladly go with the Titan which gets the job done while keeping you comfortable.
Take the 2022 Nissan Titan for a Test Drive!
Think the 2022 Nissan Titan is the perfect utility pickup truck for you? Stop by Maus Nissan of New Port Richey to see if we have any new models for you to test drive, or call our helpful staff anytime at (727) 999-6287 for more information!